2020 Chevrolet Bolt EV Spotlight | Sherman, TX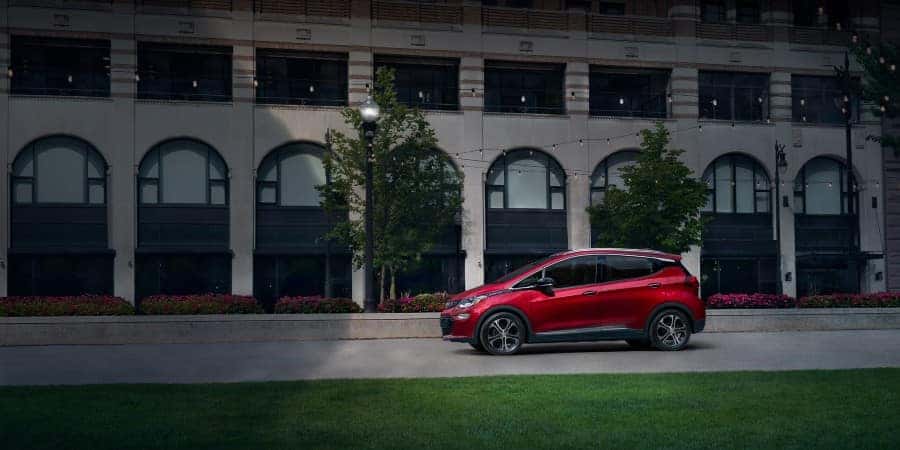 The 2020 Chevrolet Bolt EV is an affordable, all-electric hatchback with an EPA-estimated 259 miles of range per charge.* If efficiency and a low environmental footprint are at the top of your priorities, the Chevrolet Bolt EV should also be at the top of your list.
All-Electric Powertrain
The 2020 Chevrolet Bolt EV uses a single electric motor rated at 200 horsepower. Thanks to its instant torque delivery, its acceleration is impressively fast and will easily let you bold ahead when the light goes green. It goes 259 miles on a single charge, which is extremely competitive compared to other EVs in the segment, and can be charged quickly with a home-installed, 240-volt charger.* At public DC Fast Charging stations, you can expect to get up to 100 miles of range in about 30 minutes of charge time.
Interior Comfort
The interior of the 2020 Chevrolet Bolt EV is spacious and practical, with generous front and rear passenger legroom and enough cargo space to fit five carry-on bags behind the rear seats. There's a smartphone-sized compartment just behind the electronic shifter and, unlike many other EVs, the ride is actually nice. Available features include leather seats and rear-seat heating for added comfort, as well as extra USB ports and wireless phone charging for enhanced convenience.
Some of the nicer available features include leather seats, heated rear seats, wireless phone charging, extra USB ports, and an upgraded audio system by Bose®.
Technology and Features
Every 2020 Chevrolet Bolt EV comes with a digital 8-inch instrument cluster as well as a 10.2-inch central touch-screen display, which is responsive and easy to use. The infotainment system supports Apple CarPlay® and Android Auto™ as well as a wide array of EV-specific features that provide useful information like current charge and remaining range. With the myChevrolet Mobile App, you can also locate more than 40,000 compatible charging stations, plan routes that maximize your efficiency, and even pay for public electric vehicle fast charging directly from your smartphone.
---
If you're interested in the Chevrolet Bolt EV, make sure to visit Sherman Chevrolet in Sherman, Texas, and ask about this excellent vehicle.

*EPA-estimated 259-mile EV range. Your actual range may vary based on several factors, including temperature, terrain, battery age, and how you use and maintain your vehicle.