2020 Chevrolet Bolt EV vs. 2020 Nissan LEAF | Sherman, TX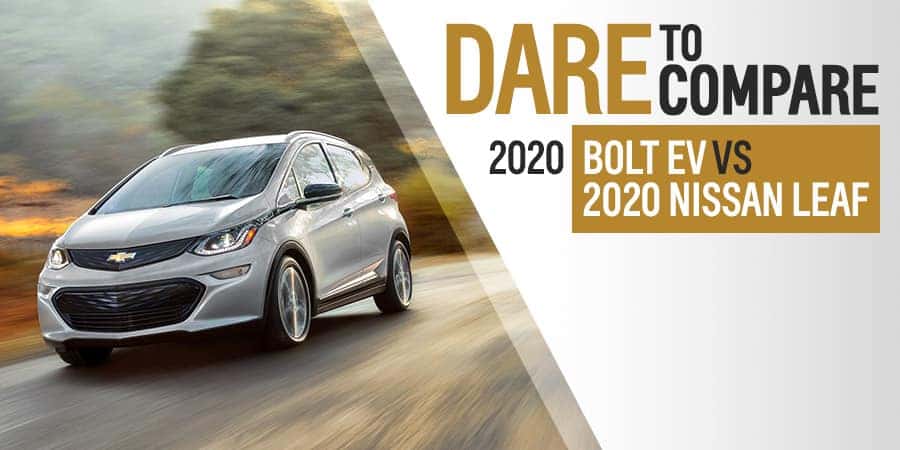 The Chevrolet Bolt EV and Nissan LEAF are two of the best-known all-electric cars you can buy right now. How do they compare, and which of the two vehicles is the best?
Electric Range and Power
When it comes to all-electric cars, one stat reigns supreme: range. And when it comes to range, the 2020 Chevrolet Bolt has the upper hand. It has a class-leading range of 259 miles, which is not only better than the 149-mile range of the 2020 LEAF and the 226-mile range of the LEAF Plus, but also better than other competitors like the Tesla Model 3 and the Kia Niro EV.* The Bolt is the benchmark in the segment.
The Bolt also has better standard horsepower than the LEAF — 200 vs 147 — as well as a quicker charging time. According to MotorTrend, the Bolt can be fully charged in about 10 hours with a 240-volt home charger, compared to 11.5 hours for the LEAF Plus.
Space and Practicality
Both the 2020 Bolt and 2020 LEAF are pretty small cars, but they make use of their compact dimensions differently. The Bolt offers more cargo volume than the LEAF: 56.6 cubic feet, enough to fit five carry-on luggage, compared to only 30 cubic feet for the Nissan. And despite its cargo advantage, the Bolt also has more rear legroom. Clearly, Chevrolet did a better job with its interior packaging.
Features and Technology
Though the Chevrolet Bolt is the more affordable model, its features and technologies are more impressive. It has a standard 10.2-inch touch screen, while the touch screen in the Nissan LEAF comes in at only 8 inches. It also has standard heated front seats, which you can only get as an option on the already pricier LEAF. Both cars come with Apple CarPlay® and Android Auto™ support, but only the Bolt is available with built-in mobile Wi-Fi.
---
The Nissan LEAF has been around longer than the Chevrolet Bolt, but it's clear that tenure alone isn't enough. The 2020 Chevrolet Bolt EV is the clear winner of this comparison, and you can take a closer look at it at Sherman Chevrolet in Sherman, Texas.

*EPA-estimated 259-mile EV range. Your actual range may vary based on several factors, including temperature, terrain, battery age, and how you use and maintain your vehicle.