2022 Chevrolet Silverado HD | Sherman, TX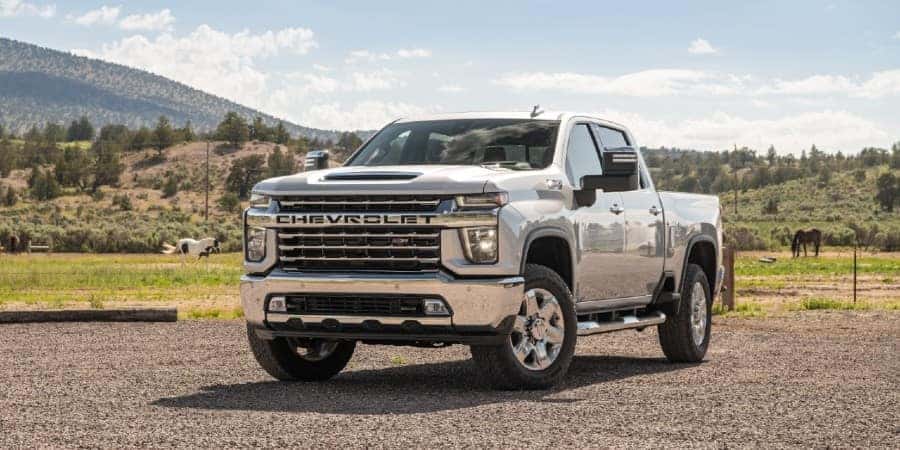 The 2022 Chevrolet Silverado HD is built to work. Designed from the ground up to get big jobs done day in and day out, it's the perfect truck for business owners and commercial customers. It's rugged, dependable, and incredibly capable, and packed with technologies that enhance convenience and make towing big loads easier than ever.
Powerful V8 Engines
You won't find a Silverado HD engine with fewer than eight cylinders. Both the 2022 Silverado 2500HD and 2022 Silverado 3500HD come with a standard, gasoline-powered 6.6-liter V8 that cranks out 401 horsepower and 464 lb-ft of torque. This engine is mated to a heavy-duty six-speed automatic that drives power to either the rear wheels or all four wheels. Both trucks are available with dual rear-wheel axles for even more stability and road presence.
The other available Silverado HD engine is the incredible Duramax® 6.6-liter Turbo-Diesel V8. It's rated at 445 horsepower and 910 lb-ft of torque, making light work of tough jobs. It uses a 10-speed Allison® automatic transmission to handle all of that torque, and like the gas-powered V8, all Duramax® Silverado HD trucks are available with 4WD and DRW.
Capable Hauling and Towing
If you can hook it up or put it in the bed, there's a good chance the Silverado HD can get it to where it needs to go. Thanks to that powerful Duramax® engine, both the Silverado 2500HD and 3500HD can tow incredible loads. The 2500 HD has a maximum towing capacity of 18,510 pounds while the 3500HD had a maximum towing capacity of 36,000 pounds, enabling you to tow the biggest fifth-wheel RVs or heavy farming machinery. With dual rear wheels, the 3500HD can also haul up to 7,442 pounds in the bed, which is almost on par with the towing capacity of many midsize trucks.
But for Chevy, it's not enough to make the Silverado HD the most capable one yet. This advanced pickup truck is equipped with many technologies that make hauling and towing easier than ever, regardless of your level of experience. Up to 15 different camera views make hitching, reversing, and other maneuvers simple. And the segment-first Advanced Trailering System lets you create custom trailering profiles that you can tailor on either the onboard infotainment system or your smartphone. That's the kind of feature that can save you hours of time if you regularly alternate towing jobs.
Advanced Tailgate and Bed
Every 2022 Silverado HD is offered with an optional Multi-Flex tailgate that adds practicality to your daily life. This all-in-one multi-functional tailgate can be adjusted to fill six different useful roles. For example, it can be configured as a work surface, a full-width step capable of holding 375 pounds, or an inner or outer load stop. Adjusting the tailgate is easy and all you have to do to open it is press a button inside the cabin or on your key fob.
Of course, a fancy tailgate and more than 7,000 pounds of hauling capability don't mean much if the bed itself isn't usable. But the Silverado HD's bed is more than just usable — it's top-of-the-class, with more cargo volume than any other heavy-duty truck.[1] And it's packed with convenient features like a 120-volt outlet that can charge power tools, or LED cargo area lighting. No need to burn the midnight oil — you've got a truck for that.
With a Chevy Silverado HD, you'll feel like you can get anywhere and bring anything along with you. And that's because, largely, you can. Visit Sherman Chevrolet in Sherman, Texas, for a closer look at this exceptional truck!
[1] Excludes other GM vehicles.
---
2021 Chevrolet Silverado HD
The 2021 Chevrolet Silverado 2500HD and 2021 Chevrolet Silverado 3500HD are two massive heavy-duty pickups designed for extreme towing and hauling — the strongest, most capable Silverado HD models to date. Test drive yours at Sherman Chevrolet in Sherman, Texas.
Your Choice of Engines
With the 2021 Silverado 2500HD and 3500HD, you will choose between two solid engines:
The 6.6-liter V8 gas engine delivers a whopping 401 horsepower and 464 lb-ft of torque.
The Duramax® 6.6-liter Turbo-Diesel V8 cranks out 445 horsepower and 910 lb-ft of torque.

When properly equipped, the Chevrolet Silverado 2500HD can tow up to 18,500 pounds. The Silverado 3500HD nearly doubles that with a towing rating of 36,000 pounds when properly equipped.
The Towing Tech You Deserve
You can get up to 15 different camera views in the 2021 Chevrolet Silverado HD models — that's more than you will get in any competing pickup. But that's not all the Silverado 2500HD and 3500HD have to offer to improve towing. The segment's first available Advanced Trailering System for these models includes features such as a trailer tire pressure and temperature monitoring mechanism, trailer maintenance reminders, exterior trailer lighting diagnostics, and predeparture checklists. In addition, the Silverado HD models boast a Tow/Haul Mode, Auto Grade Braking, a StabiliTrak® Electronic Stability Control System with Trailer Sway Control, and available Digital Variable Steering Assist.
All About Utility
The 2021 Chevrolet Silverado 2500HD and 3500HD boast the Durabed, the industry's most durable, functional, and spacious cargo bed. This bed boasts 12 standard tie-downs and available LED cargo area lighting. In addition, the Silverado HD models boast integrated BedSteps for easy access, optional segment-first rear in-seatback storage compartments, large trailering mirrors, best-in-class front head and leg room, and a removable skid plate and front air dam for easy snow plow setup.
Get a closer look at the 2021 Chevrolet Silverado HD models at Sherman Chevrolet in Sherman, Texas.