Light-Duty vs. Heavy-Duty Trucks | Sherman, TX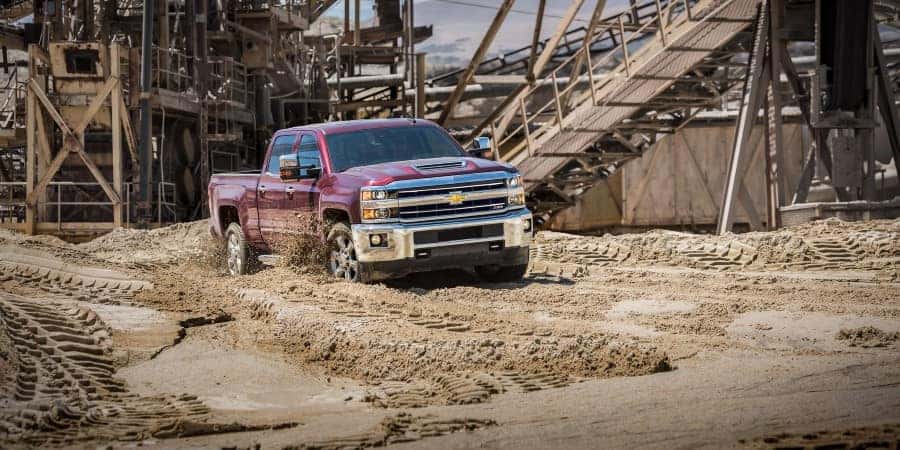 When shopping for a pickup truck, one of the first questions to ask yourself is this: do you get a light-duty truck or a heavy-duty truck? Below, we'll go over how trucks are classified and the pros and cons of each type.
Pickup Truck Classification 101
Pickup trucks are the most popular type of vehicle in the United States, but many people would have a hard time accurately classifying all the different variants.
According to the EPA, a light-duty truck is a vehicle that weighs under 10,000 pounds. However, there is an exception to that rule. If a vehicle has a gross vehicle weight rating under 8,500 pounds (the maximum loaded weight it can carry including passengers), then it counts as a light-duty truck. If it has a GVWR over 8,500 pounds, then it counts as a heavy-duty truck even if the truck itself weighs under 10,000 pounds.
For example, the Chevrolet Silverado 1500 is a light-duty pickup truck. The Silverado 2500HD and 3500HD are heavy-duty pickup trucks. In general parlance, all of these trucks are considered to be "full-size" pickup trucks. The smaller Chevrolet Colorado is a "midsize," light-duty pickup truck.
Trucks are also sometimes classified by their weight. For example, the Silverado 1500 is a half-ton pickup, the 2500HD is a three-quarter-ton pickup, and the 3500HD is a one-ton pickup. One-ton pickups are the biggest trucks typically sold to regular non-commercial buyers.
Light-Duty Pickup Truck Advantages
Light-duty pickup trucks are the most popular type of vehicle in the U.S. for a good reason. They offer an amazing combination of practicality and affordability. The entry-level Chevrolet Colorado, for instance, can tow up to 3,500 pounds when properly equipped. With the optional Duramax® turbodiesel engine, it can tow up to 7,700 pounds, enough to handle a two-axle trailer or a decently sized boat. The entry-level Chevrolet Silverado 1500 can tow up to 7,900 pounds. When properly equipped, the maximum towing capacity of the Silverado 1500 goes as high up as 13,300 pounds.
Light-duty pickup trucks are a good pick for people who anticipate needing to haul furniture and construction supplies, and who like to have fun off-road and go on weekend trips with something in tow. Their most significant advantage, compared to heavy-duty trucks, comes from their size. Because they are lighter and subject to stricter emissions standards, light-duty trucks are often significantly more efficient. The Silverado 1500 gets 33 mpg on the highway with the Duramax® engine.* Additionally, the Colorado and Silverado 1500 are easier to park and drive on narrow roads, making them a better choice if you live in the city.
Heavy-Duty Pickup Truck Advantages
Heavy-duty pickup trucks are designed for consumers who need their enhanced hauling and towing capacities. They are offered with large diesel engines, beefed-up suspensions, and more durable transmissions. The sheer ability of a truck like the Silverado 3500HD, which can tow up to 36,000 pounds, makes it a popular choice for commercial consumers who need vehicles capable of hauling large construction materials or pulling heavy loads, day in and day out. Thanks to their substantial payload capacities, the Silverado 2500HD and 3500HD can haul virtually anything you can fit in their beds.
Because of their size, and their towing-tuned engines and transmissions, heavy-duty trucks are less maneuverable and less efficient than light-duty trucks.
A light-duty pickup truck like the Chevy Colorado or Chevy Silverado 1500 should be more than enough to satisfy the average consumer's needs.
---
For a closer look at cab styles, bed sizes, and interior features of light-duty and heavy-duty trucks, visit Sherman Chevrolet in Sherman, Texas.

*Silverado 1500 2WD with available Duramax 3.0L Turbo-Diesel I-6 engine, EPA-estimated 23 MPG city/33 highway.