The History of Sherman, TX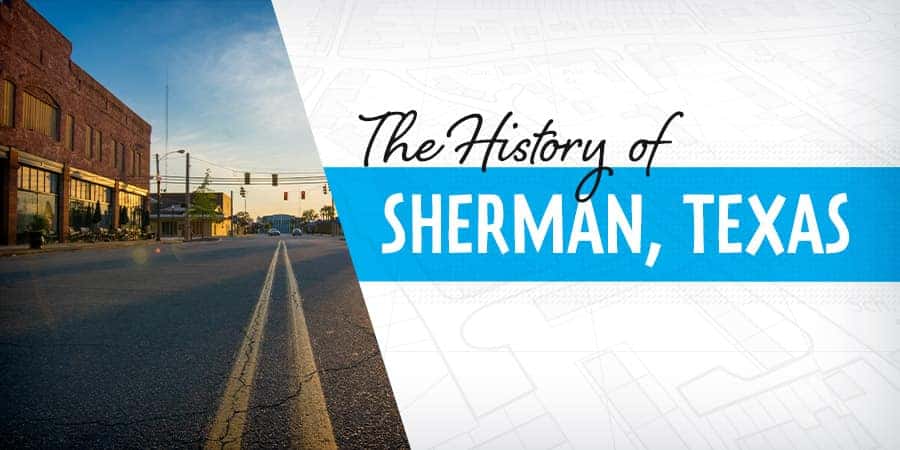 The city of Sherman, Texas, was founded in 1846 by the Grayson County commissioners. Sherman was named after General Sidney Sherman, a key figure and hero of the Texas Revolution. Sherman commanded the left wing of Houston's army at the decisive battle of San Jacinto. If you've heard of the famous battle cry, "Remember the Alamo! Remember Goliad!" you can thank Sherman for that.
After the Texas Revolution, Sherman moved to Texas permanently where he served in the State Legislature in 1852 and 1853 after Texas joined the Union. On top of his military legacy, Sherman also built the Buffalo Bayou, Brazos, and Colorado Railway, which became the first railroad in the state of Texas.
Pecan Tree
The City of Sherman moved to its present location in 1848, where a mammoth pecan tree played an instrumental part in the city's development. The pecan tree, which stood in what is now the public square, became the center of life as Sherman grew. From providing shade for court sessions to being a place for religious gatherings, the pecan tree helped foster the growth of the city and community. The central location of the pecan tree contributed to the rich and dynamic history of downtown Sherman.
Growth and Development
After Sherman began to recover from the Civil War and Reconstruction, the city became known as "The Athens of Texas" in the 1870s thanks to the influx of higher-learning institutions. Sherman, Texas began to experience surges of growth and development. Washing Iron Works, the city's oldest industry that opened in 1876, still exists today!
Sherman Today
The city of Sherman continues to thrive thanks to its location, excellent infrastructure, and economic development that attracts major employers. You can learn more about the rich history of Sherman at various museums in the historic downtown Sherman, such as C.S. Roberts Historic House Museum, Grayson County/Outlaw Trails Museum, and The Sherman Museum.
---
We are proud to be part of the Sherman community. Stop by Sherman Chevrolet to test drive a new vehicle!